3-3.5 stars – A pretty fun historical romance. Fans of m/m regencies may especially like this story of poor Jamie, who has come to London with his last few coins to take up a position as a tutor for a Lord's children, only to find that the Lord and his family had died in a terrible accident and the household was now run by the rakish brother. Fortunately for Jamie, he gets a job as the house's new secretary. Even though he finds Lord Stephen overspendy and irresponsible, and Stephen finds Jamie mousey and unappealing, especially compared to his foppish actor lover, but they slowly start to realize the other's good qualities and how much better they feel when they are together.

The parts I liked: I really dug the first half--it was full of delicious regency/historical fun times as Jamie got acclimated to his new life and did the push-away/come-closer dance with his attraction to Stephen. The side characters who peppered the story, the servants and Stephen's awesome Aunt were also a lot of fun to read.

Pearson's writing style was also highly readable, and I loved all the period details she flitted into the story, making each scene easy to picture, whether it was Stephen's library, Jamie's forever-cold upstairs room, or an amazing indoor picnic at his Aunt's mansion.

What was harder for me: Somewhere around 63%, the big Misunderstanding happened, and then the MCs separated for Emo Separation Time, and were apart for the next 30% of the book. During this time, intrepid Jamie tried to find work, but ends up in the villainous clutches of Stephen's jealous actor lover (WHO IS SUPER EVIL). Stephen is very emo and mopey, and decides that moping with his Evil Lover is fine since Jamie left him, which made me feel a lot less sympathetic towards him.

Thankfully, Jamie is rescued during a drawn out climax which was almost comical for how long it took to get people to rescue him. (I was skimming at this point. "Get to Jamie, you imbeciles!") FINALLY, they are together, and have a 3-5% or so for a quick reconciliation and ILYs/sex, etc. I felt a little apathetic by this point, and wished Stephen was a way better person for Jamie. There definitely wasn't enough realization on his side.

The story has a fun classic feel to it though, so if you like historicals, you may totally dig this. For me, I loved the energy of the first half, but I wish the separation time had been shorter in the second, or the reconciliation was longer.

I think the old/original cover is the TOPS though. It's so pulpy and lovely and makes me think of trashy dime novels, and I just totally dig the feel of it.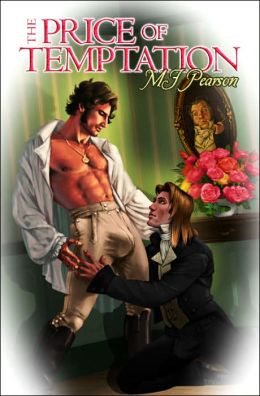 I'm sad that the new ebook version doesn't have that cover. (And is that guy on the cover supposed to be Jamie?? That guy's haughty face makes me think of terrible villain Julian WHO IS TERRIBLE.)
In the end, a fun read. I'll definitely check out more from this author since even though this one fizzled a bit for me in the second half, I love that she went all Super-Regency and I'm psyched to try her other historicals.